The new RegTech100 list for 2022 is launched today. Now in its fifth edition, the list recognizes the world's most innovative technology solution providers that offer products and services in the areas of compliance, risk management, information security and financial crime.
The RegTech (regulatory technology) industry has experienced rapid growth over the last two years as financial institutions dealt with rising tide of regulatory changes and rules updates brought by remote working and increased use of digital channels post Covid-19. As a result, RegTech spending by banks, insurance companies, investment services businesses and other highly regulated institutions is projected to exceed $130bn by 2025.
Thus, it's not surprising this year's process to identify the 100 RegTech innovation leaders was more competitive than ever. A panel of analysts and industry experts voted from a longlist of nearly 1,200 companies produced by RegTech Analyst, a specialist research firm. Tecalis has been chosen for its innovative use of technology to solve significant industry problems and generate efficiency improvements across the entire regulatory compliance function.
RegTech Analyst director of research Mariyan Dimitrov said, "Banks, insurance companies, investments and crypto ones and other financial institutions and related areas are investing heavily into AI capabilities to automate highly manual regulatory tasks, support digital onboarding processes and monitor for fraudulent activity. The RegTech100 list helps them filter through all the vendors in the market by highlighting the leading companies in sectors such as identity verification, risk management, communications monitoring, information security and financial crime prevention."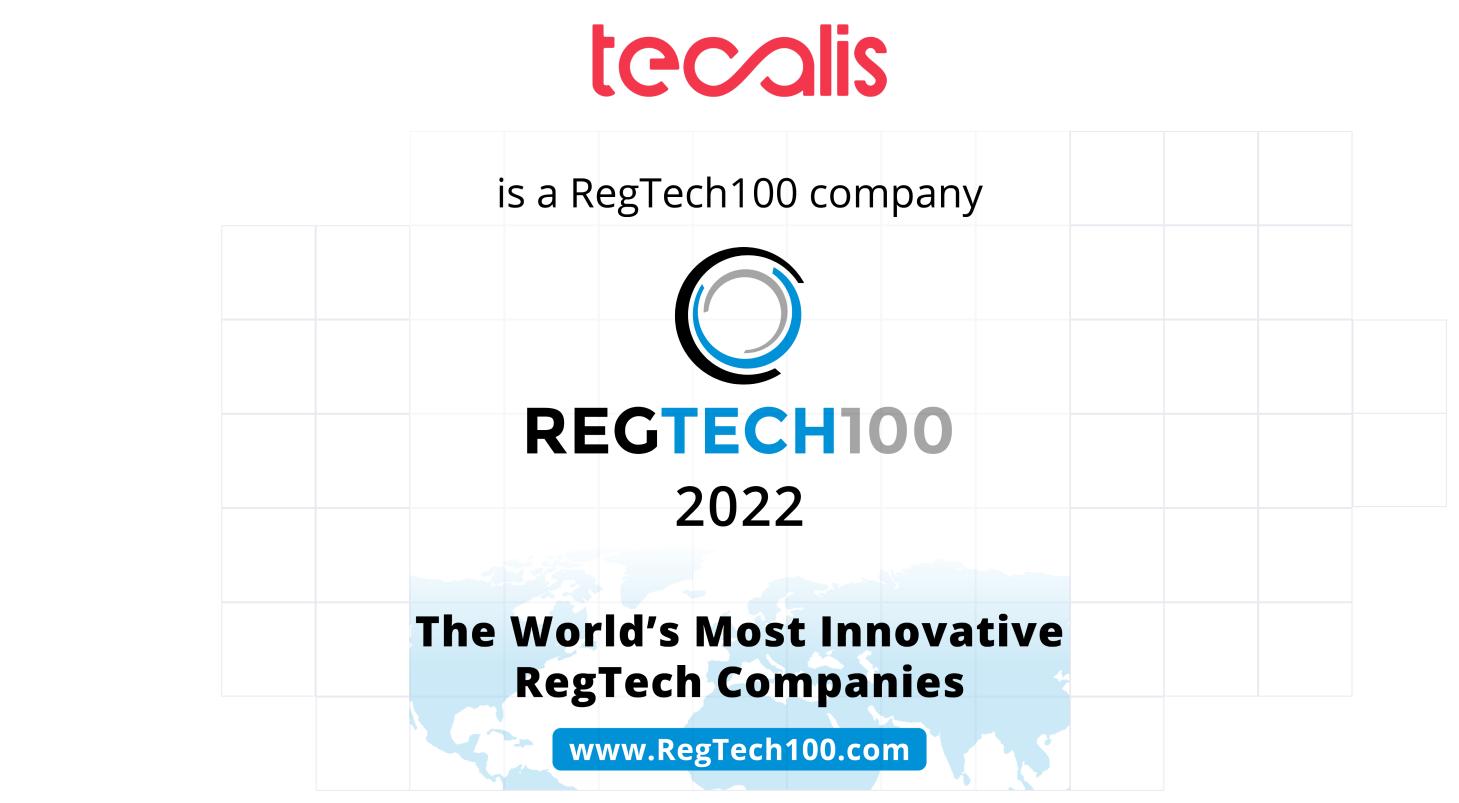 Get the latest news right in your inbox





Trust, identity and automation services
Tecalis creates disruptive digital product to make the most innovative companies grow and evolve. We drive growth and digital transformation processes to bring the future to businesses today.
KYC (Know Your Customer) Video Identity Verification, Digital Onboarding and Authentication (MFA/2FA) solutions and services enable our customers to provide their users with an agile and secure experience.
Our RPA (Robot Process Automation) software enables the creation of sustainable, scalable, productive and efficient business models through BPM (Business Process Management), allowing unlimited growth.
Advanced and Qualified Electronic Signature and Certified Communication services (Electronic Burofax) allow customer acquisition, contracting and acceptance processes that used to take days or weeks to be completed and approved in minutes or seconds.
Customer Onboarding (eKYC), Digital Signature (eSignature) services and Automated Fraud Prevention are making it possible for companies to operate online and without borders.
As an EU-certified Trust Services Provider and an established RegTech partner, we help organizations comply with the most demanding regulatory standards in their sector and region, including AML (Anti-Money Laundering), eIDAS (Electronic IDentification, Authentication and etrust Services), GDPR (General Data Protection Regulation), SCA (Strong Customer Authentication) or PSD2 (Payment Services Directive) regulations thanks to Tecalis Anti-Fraud Controls and Document Verification.