Tecalis launched at Centro GáiasTech - an open innovation space that drives the launch of the most disruptive solutions - the first identity verification technology for people and avatars for the metaverse.  
The risks faced in these virtual environments are not very different from those faced by companies and users in the real world. Identity fraud, impersonation, theft or harassment become issues to be resolved in a place where we present ourselves with an altered identity. 
The creation of avatars based on a real identity is crucial to avoid any kind of illicit activity in these digital worlds.
Therefore, the design, creation and implementation of Tecalis Avatar Identity Technology comes to solve all the challenges faced by the different metaverse or related environments that limit their growth and reliability.
Globally conceived and applicable to any platform, this pioneering system addresses, among many others, the following challenges that the metaverse was not yet firmly addressing:
- The automated creation of avatars based on the user's real identity and biometric facial pattern, and adapted to the look-and-feel of the platform in question.
- The identification of avatars that do not correspond to and link them to the real and officialized identity of the controlling user.
- The creation of a transversal and global centralized ID framework system for Web3 and metaverse landscape.
- The implementation of advanced anti-fraud controls and KYC (Know Your Customer) standards in the onboarding of users in target platforms.
- Bringing RegTech tools and regulatory compliance closer to the industry, starting with standardization.
For further information about this technology, its capabilities, integration models and functionalities you can access the technology and product launch event or contact Tecalis.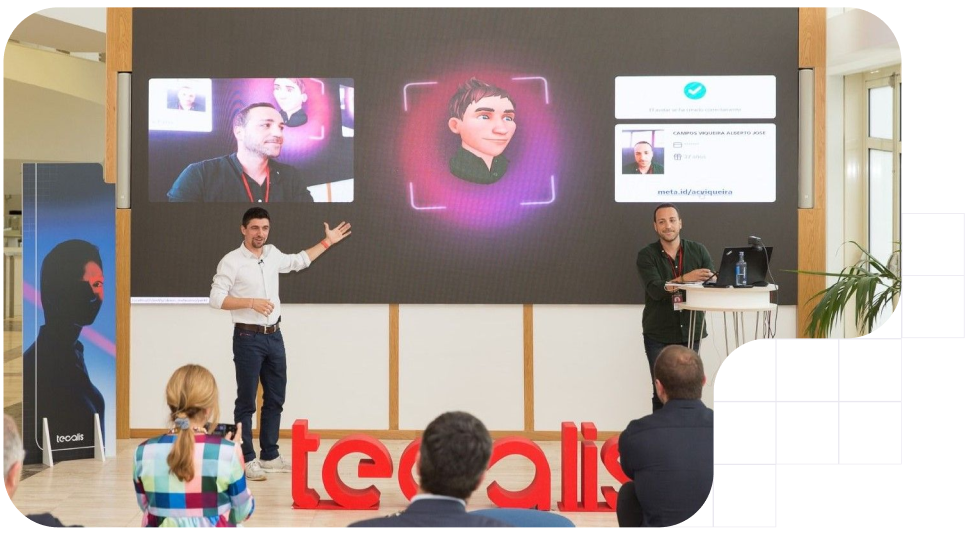 Get the latest news right in your inbox





Trust, identity and automation services
Tecalis creates disruptive digital product to make the most innovative companies grow and evolve. We drive growth and digital transformation processes to bring the future to businesses today.
KYC (Know Your Customer) Video Identity Verification, Digital Onboarding and Authentication (MFA/2FA) solutions and services enable our customers to provide their users with an agile and secure experience.
Our RPA (Robot Process Automation) software enables the creation of sustainable, scalable, productive and efficient business models through BPM (Business Process Management), allowing unlimited growth.
Advanced and Qualified Electronic Signature and Certified Communication services (Electronic Burofax) allow customer acquisition, contracting and acceptance processes that used to take days or weeks to be completed and approved in minutes or seconds.
Customer Onboarding (eKYC), Digital Signature (eSignature) services and Automated Fraud Prevention are making it possible for companies to operate online and without borders.
As an EU-certified Trust Services Provider and an established RegTech partner, we help organizations comply with the most demanding regulatory standards in their sector and region, including AML (Anti-Money Laundering), eIDAS (Electronic IDentification, Authentication and etrust Services), GDPR (General Data Protection Regulation), SCA (Strong Customer Authentication) or PSD2 (Payment Services Directive) regulations thanks to Tecalis Anti-Fraud Controls and Document Verification.