Index

Get the latest news right in your inbox
OSS and BSS systems are essential for the efficient operation of telecommunications companies, especially mobile, fixed-line and Internet operators. These two types of systems address a number of specific needs of different functional areas within these businesses and support the business activity and the telecom service they offer to customers.
Next, we will explore in depth what Operational Support Systems (OSS) and Business Support Systems (BSS) are, how they work, their key differences and how they are coordinated to respond to the daily activity of telecommunications services. We will also see how they have been modified to reach other industries beyond the telecom sector, where they have brought great benefits and growth to their user companies.
What is an OSS?
OSS is a platform for the management and execution of Operational Support Systems that cover all the operations and activity of a service or supply business. In other words, a set of tools and applications unified under a complete software designed to manage the technical operations and infrastructure of a telecommunications network. As we will see later, this term has been extended to other industries, where the objective is not the management and operation of a telecommunications network but of a network of energy, gas, water or financial services such as insurance. 
OSS (operations support systems) cover a wide range of functions, among which the following stand out:
Network Management

: OSS supervises and manages the network infrastructure, which involves the configuration and control of telecommunications equipment, as well as monitoring its performance. This ensures that the network functions optimally.

Resource Control

: OSS systems manage network resources, such as bandwidth allocation, capacity management and IP address management. This is crucial to ensure the availability of resources when users require them.

Troubleshooting

: Network problems are detected and diagnosed, enabling rapid resolution. This feature is vital to minimize downtime and ensure a seamless experience for users.

Service Billing

: Collection and provision of data that is used in the service billing process. This ensures that customers are billed accurately and in a timely manner for the services they consume.
In short, Operational Support Systems (OSS) are the technical engine behind the operations of the telecommunications industry, ensuring that the network runs smoothly and resources are used efficiently.
What is a BSS?
BSS are software systems that focus on commercial, economic and customer relationship operations. Business Support Systems (BSS), on the other hand, comprise a series of applications that facilitate a company's growth activity. Together with operations support systems (OSS), BSSs are used to support various end-to-end telecommunications services (e.g. telephone services).
BSS handles order intake, payment issues, revenue, etc. It supports OSS in four key business processes: product management, order management, revenue management and customer management.
On the other hand, it supports the development of ranges, their markets, sales and the management of products, offers and packages for companies and individual customers. Product management regularly includes offering aggregation discounts, cross-sale, pricing with automated configurators and managing relationships between verticals.
Service providers need a single view of the customer and often structure complex hierarchies in customer-facing applications (across all their channels and markets). Customer management also covers the requirements for working with business partners and 24/7 web-based self-service. It can also be considered a complete customer relationship management system that is implemented to help customer service agents deal with customers in a better and more informed way, although the most powerful and optimized ones are included within OSS/BSS as we have seen.
Order decomposition details the rules for decomposing a sales order into multiple work orders or service orders. For example, a Triple Play sales order with three services - fixed telephony, Internet and wireless - can be broken down into three sub-orders, one for each line of business. Each of the sub-orders will be fulfilled separately in their own procurement systems. This is the same for utilities or some BFSIs.
However, there may be dependencies in each sub-request; for example, an Internet sub-request can only be fulfilled when the fixed line has been properly installed, provisioned and activated at the customer's premises.
Thus, order orchestration is an application within BSS/OSS used by telecommunication companies to accurately manage, process and process their customers' orders through a multiple order capture and fulfillment network. It contributes to the cross-aggregation of data from different order capture and processing systems and provides a comprehensive platform for customer order management. 
It has been widely applied in recent times, due to its advanced and accurate reporting efficiency and low processing costs, allowing for reduced manual processes and faster results. Its radical exception-response based operation and proactive monitoring allows you to centralize order data accurately and easily.
Another relevant aspect is Order Failure Management, which helps to fully resolve unconverted customers through the detection, notification and recovery process, helping the order to be processed sustainably and accurately. This example also applies to when a customer does not end up signing and the opportunity is forwarded to a sales agent in another channel to close.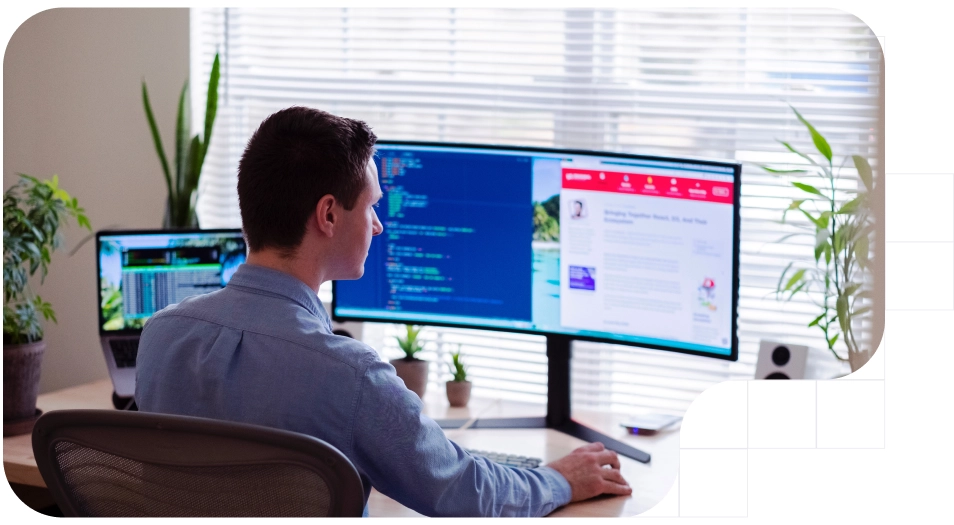 What does OSS and BSS mean?
OSS and BSS are complementary terms in many respects and are grouped according to the software vendor providing the solution. While OSS focuses on the infrastructure and technical performance of the network, its operational performance and optimization, BSS focuses on business operations, sales, economics and the customer journey. The interaction of these two systems is essential for the integral operation of a telecommunications company or industries such as utilities (energy, water, light, gas, supplies...) or some BFSI (Financial Services, Insurance...).
BSS and OSS have their own responsibilities for data and services, grouping together to fully understand the software systems that run an organization but are generally built separately and then integrated together to better meet the needs of each area. 
The two systems together are abbreviated in several ways that are synonymous with each other and can be used interchangeably. Namely: OSS/BSS, BSS/OSS, B/OSS, BSSOSS, OSSBSS or BOSS. Some experts and analysts take an upward network approach to these systems (hence OSS/BSS) and others a downward business approach (hence BSS/OSS). But, as previously mentioned, the most common and optimized approach is for each to be designed specifically for its intended and targeted operation (by expert providers in each subject area - customer care / service networks) and then connected together in an appropriate way to achieve a seamless and personalized flow of information and work.
BSS is used in the singular to refer to all business support systems, considered as a complete system provided by the best specialized software developers.
Key differences
Despite their collaboration in the ecosystem of a service or supply delivery organization, OSS and BSS have different approaches and objectives. In the following, we will discuss the key differences between these two sets of systems:
Approach
OSS (Operational Support Systems): Their main focus is on the service infrastructure and its technical performance. They ensure

that the network runs smoothly and that the necessary resources are available to supply them

to customers.

BSS (Business Support Systems): They focus on commercial operations and attention to customer needs. They manage

consumer relations, point-of-sale operations, automated billing and order management

. They also work with and on

suppliers and business partners

.
Objectives
OSS: Their objective is to guarantee network availability and efficiency. They

control the infrastructure and solve technical problems

.

BSS: They seek to

improve customer satisfaction, increase sales and optimize business operations and marketing resources and growth in each market

. They offer customized services and manage efficient business processes.
Functions
OSS: Performs technical functions such as network

monitoring

, service resource management and

supervision of

technical problems.

BSS: Performs commercial functions such as

customer management

, sales agents, face-to-face and online points of sale, payments and data analysis.
Interaction
OSS and BSS: They work together to

ensure the delivery of

telecommunications

services. 

BSS is used to interact with elements generally external to the company (customers, partners, partners, suppliers...) OSS with own systems (maintenance technicians, materials, infrastructure, systems...).
These fundamental differences reflect the distinctive roles of OSS and BSS in the telecom ecosystem and how they contribute in complementary ways to the success of a telecom business.
Order management as a principle of assurance is usually associated with OSS, although BSS is often the business driver for order fulfillment and procurement management and the tools to win customers and build customer loyalty.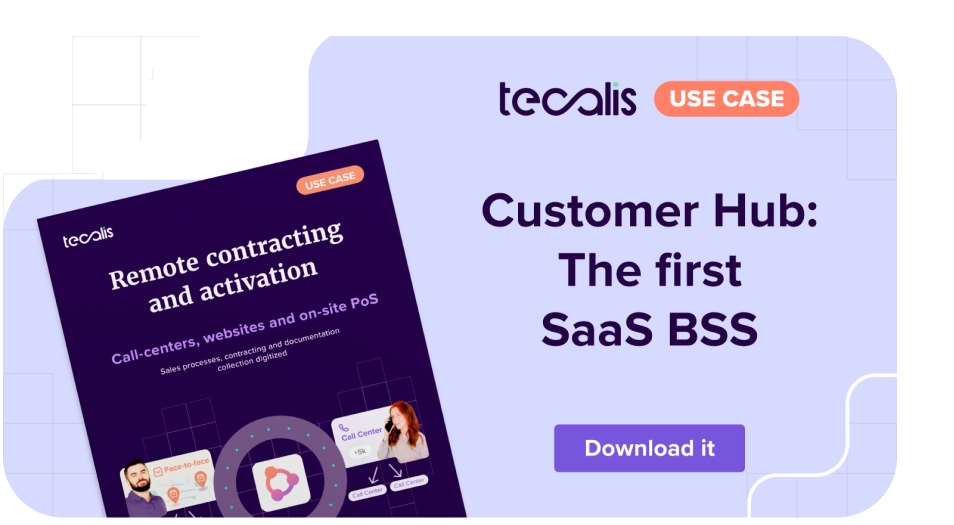 Coordinating business systems and OSS/BSS support
OSS/BSS works closely together to ensure the efficient delivery of telecommunications services. When a customer requests a new service, BSS handles order management and billing, while OSS is responsible for activating and configuring that service on the network. In addition, data generated by the network (OSS) is used in billing and data analysis (BSS), ensuring that customers are billed accurately and that business decisions are based on reliable information.
The combination of OSS and BSS is critical to providing an end-to-end customer experience and keeping a business running efficiently. It is critical to ensure the efficient delivery of services. This collaboration translates into an enhanced customer experience, resource optimization and a more efficient business operation. Let's take a look at how these systems coordinate:
When a customer requests a new service, BSS systems handle order management, billing and customer relationship management. Simultaneously, the OSS systems activate and configure that service on the network, ensuring that it is available and functioning properly.
Shared data is used to enable OSS and BSS systems to generate valuable data on network performance and technical resources as well as demand already present in current customers and forecasts if active business opportunities were to be terminated. This data is shared with the systems that use it for accurate billing and data analysis to make informed business decisions.
When network problems are detected, OSS identifies and diagnoses technical faults. Information about these problems is shared with BSS, which can notify affected customers and manage troubleshooting efficiently.
How best-of-breed BSS and OSS solutions work
Choosing the right OSS and BSS solutions is essential to the success of a telecommunications company. Here are some key considerations when selecting the best OSS/BSS solutions:
Integration: Ensuring

that OSS and BSS solutions are integrated

effectively and quickly

is crucial. Integration enables seamless coordination and effective collaboration between systems and performance to achieve desired KPIs. There are now

BSSaaS solutions

that can be up and running in less than 45 days and are growing and upgrading along with the business.

Scalability:

BSS/OSS must be scalable to adapt to business growth and changing market demands.

Automation:

Automation of processes, such as service activation,

identity documentation collection and processing

, and billing, is essential to improve efficiency and reduce operating costs.

Data Analytics:

OSS and BSS solutions must provide robust data analytics capabilities to

make informed decisions and improve

business

performance.

Personalization:

The ability to

customize offerings and services

is vital to meet changing customer needs and foster customer loyalty. Demonstrated synergies to expand the market and meet current demands are important.

Anti-fraud tools:

Fraud in telecommunications is a growing concern. Fortunately,

RegTech service providers that have designed OSS/BSS integrate electronic signature, identity verification and dozens of anti-fraud control measures

to

meet the regulatory requirements of each market, prevent penalties and reduce costs of dealing with fraud committed by lack of trusted systems

.
Choosing the right OSS and BSS solutions should be based on the specific needs of the business and its focus on improving customer experience and operational efficiency.
Telecommunications: use cases and BSS/OSS systems
The first sector par excellence where we saw these software is in the telecommunications industry. They are essential systems that go hand in hand with each and every one of the components and workers of the organization that have given success to an increasingly competitive market. 
We see how cloud solutions are best-of-breed and can optimize 5G network performance and create new opportunities for growth and sales through vertical technologies such as perimeter and the Internet of Things IoT. Telecom business intelligence is critical and a competitive advantage in a complex and changing industry.
In the telecommunications and telephony industry, the successful implementation of BSS and OSS solutions is essential to maintain competitiveness and provide high quality services. 
While until now OSS was run by backend professionals, unlike BSS which is frontend, both core employees and developers or engineers can now find front-ends to work with on core infrastructure operations managed by OSS such as:
Composite services and SLA

Network architecture and LAN or WAN services in availability.

Reconfiguration and modeling.

Frameworks that integrate several multi-brand suppliers.

Work on FCAPS models (faults, configuration, accounting, performance and security).

Network data processing modules and related device drivers (SNMP, Syslog, NetFlow, etc.)

VoIP and unified communications

Allocation and reconciliation of resources.

Service Order Management (SOM).

OSS BSS in Utilities, BFSI and other industries
While business and operations support systems are fundamental in telecommunications, their utility extends to other industries, such as utilities, BFSI (banking, finance, insurance) and more. Below, we will examine how OSS BSS systems are applied in these industries:
Utilities:

Utilities such as electricity, gas and water also use OSS and BSS systems to manage service distribution, customer billing and accurate record keeping.

BFSI (Banking, Finance, Insurance):

In the BFSI sector, business systems are used to manage customer accounts, financial services billing, process automation and electronic transactions, and insurance portfolio management.

Energy:

In the energy sector, they play an important role in the supervision of energy generation and distribution, billing management and customer service.

Supplies:

Supply companies, such as food and commodities, use OSS and BSS systems to manage inventories, optimize supply chains and deliver personalized shopping experiences.
The versatility of OSS and BSS systems makes them valuable in a wide variety of industries, where they help improve operational efficiency and customer satisfaction. In an increasingly interconnected world, OSS and BSS play a critical role in delivering high-quality services, optimizing resources and improving the customer experience. Choosing the right solutions and effectively coordinating these systems is the key to success in telecommunications and beyond.
Tags