Index

Get the latest news right in your inbox
The ways in which an e-signature can be requested are varied and in many cases depend on the electronic signature solution used. Whether depending on the type of sending, the electronic signature standard chosen, or the configuration of the request, the different methods of requesting a digital signature have one thing in common: they are fast, secure, and simple.
When it comes to signing documents, the traditional method of exchanging multiple drafts, documents, and e-mails can be time-consuming, inefficient, and above all not legally valid enough. Fortunately, there is a better way: requesting an electronic signature through a digital medium. In this article, we will discuss what a digital signature request is, how to request an eSignature, the platforms available for this purpose, and the different types of digital signature requests that are available.
What is an electronic signature request?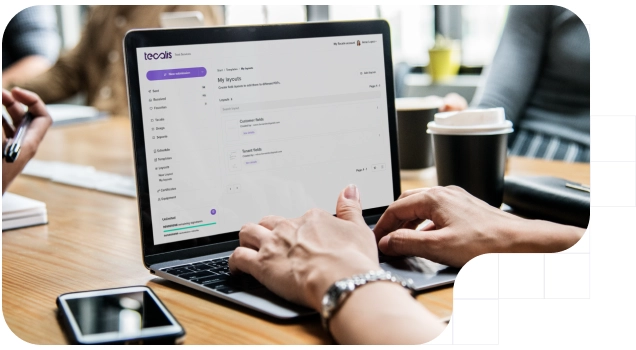 An electronic signature request is a digital method of obtaining a document signature usually remotely. It allows individuals (individuals) and companies (legal entities) to streamline the document signing process by eliminating the need for physical paperwork and reducing the time and effort required to obtain signatures from both parties and process approved documentation.
With an e-signature request, you can send a document directly to the recipient's device through different ways (email, SMS, instant messaging applications, push notification in-app...), whether it is a mobile or desktop terminal, including those that are not owned by the user who must respond to the digital signature request, since they are installed in the company's physical locations.
The recipient of a digital signature request can sign the document electronically, store it securely and return it signed to the requester, with a report of the entire process. This method eliminates the need to print, scan and send documents by email or post, making it a greener and more efficient solution. In addition, doing so without the support of standards-compliant e-signature platforms such as eIDAS makes this previous model without any legal backing.
How to request a digital signature
You can request a digital signature through electronic signature platforms developed by specialized companies in identity and trust services. This is one of the most important aspects when thinking about how to request a digital signature: the legal support, the functionalities, and the way it adapts to what we want to do with it.
Although it is also possible to request an electronic signature through online signature applications, it is not advisable to do it on this type of website, since the vast majority of them only insert a png image to a pdf document that is sent by digital means not recognized as reliable electronic means.
Opting for a qualified QTSP trusted service provider is the only viable and legally backed option for signing documents. Electronic signature requests made through websites or online platforms have no legal validity whatsoever so signed documents will likely be declared void in a court of law.
On the other hand, most of the solutions that do not belong to RegTech partners officialized by the European Union and homologous institutions do not offer the possibility of requesting a digital certificate. Therefore, you should check that the requested digital signature complies with the mandates of the eIDAS regulation.
Ways of requesting an e-signature: sending methods
There are different types of digital signature requests, each with a specific purpose. Below are some common types:
Individual Signature Requests

: This request is used when one person's signature is needed

on a document

. This can be a contract, agreement, consent form, or any other legally binding document that requires the recipient's consent. It is the simplest and most straightforward.

Massive signature requests

: In this type,

an identical document

(not unique, since it may include pre-filled fields

with differences for each signer depending on the configuration of the digital signature request

) is sent to several recipients of the electronic signature request. Each one receives an individual request to sign the document and the requester receives all returned requests with individual copies to each recipient.

Group signature requests

: Group requests (also referred to as

parallel submission

) are used when

multiple signatures

are required

on a single document

. This is usually the case for

documents that require the approval of multiple stakeholders

or involve multiple parties. It is a single document and all signatories receive the electronic signature request at the same time, the process is on hold until everyone has signed and when this happens everyone receives the same document signed by all. Parallel signature requests are generally used when the recipients cannot sign the document simultaneously. This is useful when multiple signatures are required, but the order of signing is not important.

Sequential signature requests

: Sequential digital signature requests are used when the recipients need to sign the document in

a specific order

. This is common in workflows that require a certain hierarchy or

chain of command for approvals

. Until the first signer has accepted the digital signature request and completed it, the document is not sent to the second signer, and so on until the rest of the recipients have finished.
It is important to choose the appropriate type of digital signature application depending on the specific requirements of the operation to be performed and the nature of the document. On the other hand, we have different types of electronic signatures, which must be chosen taking into account technical characteristics and - especially - with respect to the legal implications according to the risk level of the operation.
Steps to request an electronic signature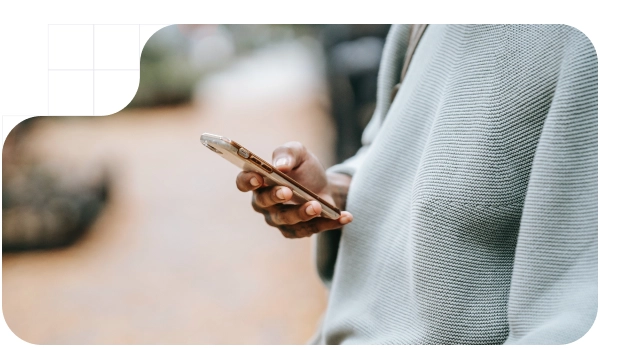 To request a digital signature, you must first log in with your account on your qualified trust service provider's e-signature platform. If you do not have an account or have not yet contracted a service to request an electronic signature, you can easily register and get a free trial or create a new account by subscribing to one of the RegTech service provider's plans.
Once you have chosen the electronic signature request provider you wish to use, you can create and send a digital signature request in a few simple steps:
Access the user portal:

Either because you have contracted it directly or because your company has provided you with access to the selected products or services, select the e-signature request platform within the user portal of your trusted service provider.

Start a new digital signature request

: Click on "new submission" to create a new electronic signature request. Choose the modality (simple, advanced, with a digital certificate, biometric...) and add a title and a description to the request.

From a new request

: Add the name of the request and any additional details. Select "Add attachments" and then choose a document storage platform (document management) or "Upload from my device". You can drag directly to the upload area to upload the documents.

Choose the workflow (type of request/sending)

: In this step, you will need to select the type of digital signature request. In case you choose the sequential model, if the recipients must respond in a specific order, select "Must be completed in order" and choose it in the next step.

Select the recipients of the signature request

: Enter an email address for each recipient (plus many other details if needed) and assign a role (signer, approver, observer...). 

Configuration of the electronic signature request

: In the best

e-Signature signature

request applications you will be able to configure dozens of options in the preparation of the sending. KYC identity verification, collection of identity documentation, multiple arrangements of fields of different types (open, drop-down, selections...), set renewals, alerts, schedules, expiration dates, etc.

Submit the e-signature request

: Finally, it is important to double-check the details before submitting the request to ensure accuracy. Do a quick check of the documents and options configured and click submit a digital signature request to confirm.
Keep in mind that not all digital signature request tools work the same. Most do not include advanced functionalities such as digital and electronic certificate managers, identity verification according to Know Your Customer standards or scheduling with a calendar view. Explore the different ways to request an electronic signature before choosing a particular solution and contracting its plan.
Platforms to request an electronic signature
There are several platforms available for requesting electronic signatures, including Tecalis. These platforms offer intuitive interfaces, robust security measures, and seamless integration with a variety of proprietary and third-party devices and applications.
With features such as customizable templates and layouts, workflow automation, and real-time tracking of request changes, the best methods for requesting digital signatures are available to any individual, business, or large enterprise in a pay-per-use format that can be integrated via API or used on proprietary web platforms that can be accessed from any device with internet access. Electronic signature applications are widely used in all sectors and industries and are known for their reliability and ease of use.
Some electronic signature requesting tools offer free trials and even "lite" versions at no cost or expiration with less functionality but with the essentials for many users. This allows you to test their features and determine which platform best suits the needs of your operation or business before committing to a subscription or contract.
How to check the status of a digital signature request
The best digital signature applications allow you to keep track with complete traceability of everything that has happened. 
All these changes in the status of the electronic signature request are recorded and captured in the audit document that can be downloaded from the process within the same platform.
Types of electronic signature requests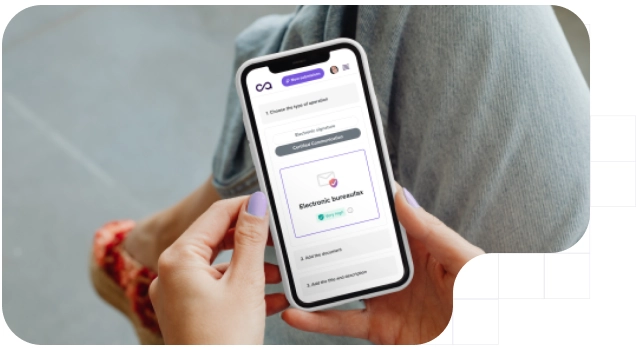 Requesting a digital signature is a convenient and efficient way to obtain electronic signatures on documents such as employment contracts, product and service contracts, employee signatures, inter-company agreements, or even digital invoices. 
By using e-signature request platforms like Tecalis, you streamline the signing process, eliminate paperwork and save huge costs in terms of productivity and time. Whether you need to request a digital form for individuals individually or you need to make several signatures or a series of signatures in a specific order, applications that allow you to make such electronic signature requests offer a secure and reliable solution.
Finally, it is important to remember that when requesting a digital signature, it is important to choose an appropriate platform adapted to the needs of the business and its use cases (specific to the industry to which it belongs and the market/jurisdiction where the operation is performed). In most cases, one of the best options is the biometric advanced electronic signature due to its versatility and absolute legal validity in high-risk use cases such as bank account openings. The necessary steps must be followed to ensure a smooth and useful signature process to save time, reduce costs, avoid compliance issues, and improve productivity in your company or in your personal projects and procedures.
The following is a list of the different use cases of how to request a digital signature in different industries, sectors, business areas, and for individuals:
Applying for electronic signatures in different Industries and Sectors
Financial Sector

: Opening of bank accounts, loan and credit applications, investment contracts, and management of financial transactions.

Legal Industry and Legal Services

: To sign legal contracts, confidentiality agreements, powers of attorney, and arbitration documents.

Real Estate

: Already fully standardized in signing processes for leases, deeds of sale, approval through mortgage applications, and property management agreements.

Health

: Informed consent, electronic medical records with advanced signatures, treatment or medical study agreements, and contracts with healthcare providers.

Insurance Sector

: Application and issuance of insurance policies, claim contracts, indemnity agreements, loss adjusters, electronic notification of the end of service, etc.

Education

: It is being extended to electronic signature requests for approving school fees and payments, educational service agreements, and collaboration documents with academic institutions.

GovTech

: Among the various public administrations and governments, it is already used to sign electronic applications for grants, public contracts, tax declarations, and official digital documents such as the bulletins of many institutions.

Telecommunications Industry

: Telecommunications service contracts, service level agreements (SLAs) or data usage authorizations.
Requests for digital signatures in the different areas of a company
Sales and Marketing

: The signature request process is sent to clients for the signing of sales contracts, collaboration agreements with business partners, and advertising campaign approvals in the agency sector.

Legal Department

: Confidentiality agreements (NDAs), software license agreements, and contracts for external legal services are signed electronically in most companies.

Human Resources

: The talent management area uses digital signature applications to send employment contracts, non-disclosure agreements, benefits management forms, onboarding forms, sign-offs, and labor compliance documents. 

Purchasing and Logistics Departments (Supply Chain)

: Supplier contracts, purchase orders, and supply agreements are examples where digital signatures are required. Sending documents, transport agreements, and contracts with logistic operators as well as other commercial contracts, distribution agreements, orders, and electronic invoices are sealed.

Customer Service Department

: Common in certain industries with high regulatory impact for repair authorizations or technical support contracts, for example.
Use cases for requesting e-signature for individuals
Rental contracts

: When no real estate company is involved, individuals have used the electronic signature of individuals for rental contracts for housing, commercial premises, and equipment.

Purchase and sale or transfer of goods and capital

: Both for automobiles, furniture, and other goods and for all aspects related to inheritance and transfer of assets.

Service contracts

: The signing of professional services contracts with freelancers and SMEs, such as consulting services, legal advice, or repair services.

Personal legal documents

: Signing wills, powers of attorney, and prenuptial contracts or will provisions.
This list is just a small sample of the many use cases of electronic signature applications in different areas. This technology offers a secure, fast, and efficient option to sign documents in the digital world, without the need to use paper and speed up business processes and personal transactions.
Tags