Index

Get the latest news right in your inbox
Proctoring has changed e-learning forever. Online learning has gone from being an alternative to becoming the most demanded educational method today at certain levels of education and for certain training models and other certification and competency assessment companies.
Teaching has undergone a great change in the last decade, especially in the last few years due to the healthcare situation. Online education and training have been the only viable way to deliver content safely over the last two years.
Beyond exceptional situations, online training has been with us for a long time. The challenge now lies in designing agile and guaranteed teaching platforms to, once and for all, put online education and training on the same level as face-to-face.
This is already possible and EdTech digital tools designed for the education and training sector are making companies and institutions of all kinds grow and be recognized at the level of traditional ones and even higher. From online virtual training strategies to disruptive educational solutions to exams for public administration competitions or human resources consultancies, online training, education and training are a guaranteed reality.
Much of this recognition lies in the ability of their platforms to create a safe and reliable environment in which to learn and test. This is where proctoring comes in as a response to the challenges that previously kept e-learning from the expected confidence.
What does proctoring mean?
Proctoring is the term used to refer to the supervision controls performed during an online examination. Although its use is generally directed at proctoring itself, the term proctoring is also used to refer to comprehensive online examination platforms, and not only to the action of proctoring.
Thus, we can say that proctoring is a set of tools focused on the proper development of a remote evaluation or examination process. Among these tools are those dedicated to avoiding, for example, identity theft, students copying or being distracted.
Proctoring tools, as we have already mentioned, can range from a simple camera control in which a teacher checks that the student is taking the exam online without distractions or copying, to comprehensive platforms where the exam can be taken and which include artificial intelligence to follow the examinee's view.
For example, in many universities or for competitive examinations, students are required to have their ID on the table at all times and sign the exam on the last page. This ensures that the person taking the exam is who they say they are, with the teacher checking that the face, name and signature correspond.
Proctoring is a digital solution to this problem in online exam environments. Under these conditions, remotely and using a device that does not usually belong to the organization, controlling identity fraud or preventing students from copying or performing any fraudulent activity during the exam is much more complicated.
Training companies or educational institutions
It might seem that proctoring tools are only available to large companies or, on the other hand, that they only make sense in universities and educational institutions supported by the public administration. However, the best solutions are capable of adapting to each use case and type of organization.
Here, two key concepts to take into account when choosing which proctoring service to hire arise:
Scalability

: Scalable proctoring solutions adapt to the online testing needs of companies and educational institutions. They are a model that works on the basis of

the number of students taking assessment tests

. They are best suited for e.g.

in-company training courses

.

Holism

: Solutions with a holistic perspective

cover the student's entire examination cycle

, from before, to during and after. These holistic solutions often include tools not only for proctoring, but also for taking the exam.
Having a digitizing partner capable of offering both solutions and creating a customized offer is the insurance to take advantage of proctoring without neglecting any aspect relevant to the needs of the organization and the learners.
Proctoring applications
Many ask what the key uses of proctoring are and, as we have seen, proctoring can be adapted to any type of teaching:
Certification agencies

: In this way, they can expand their business by allowing remote evaluations and being more competitive by lowering costs by not needing testing centers. In the same way, they can expand to any market and issue certifications without any problem in the face of audits.

Employee training companies

: Proctoring is necessary both for

talent and human resources departments

of companies and for those specialized in corporate training, given the dynamics of today's organizations.

Occupational Risk Prevention

: The training and certifications required for employees and mandatory in terms of ORP must be obtained under a guarantee system for possible audits.

Assessment providers

: These specialized companies will only be competitive today if they have a proctoring technology partner that integrates their controls into their assessment systems.

eLearning

: Paid or free online learning platforms such as course schools, masters, MicroDegrees or MOOCs. Proctoring will provide crucial support to the recognition of their private certifications, as well as if they have certified partners such as universities.

Public and private universities

: Whether for face-to-face, online or blended learning, proctoring applications in these educational institutions save time, resources and ensure that they remain reputable institutions.

Institutes

: Especially in high school and for language tests that will issue certificates.
Types of proctoring
Not all solutions are at all the same. There are many ways to approach online testing and understand what complete testing software should be. Depending on its scope, the additional tools included or the type of technology it relies on, we can talk about different types of systems.
In any case, in general terms, the most common categorization of proctoring is based mainly on the type of supervision provided to the student who is taking an online test or exam:
Continuous human supervision

: In this type of proctoring a human supervisor supervises through a camera in a way that would be similar to the supervision done by a teacher in a classroom. Typically, a single supervisor could supervise between 16 and 32 students at the same time.

Deferred supervision under-recording

: Here, an audio and video system will record the examination, which will be sealed at the end of the test together with the recording. This model is essentially based on its deterrent capacity since, although the recording can be consulted at any time after the examination, these are usually only checked in the case of very obvious suspicions.

Fully automated monitoring

: These systems use all available technological capabilities to perform real-time monitoring with superior and more comprehensive controls than continuous human monitoring without the need for constant supervision by a person.
A mixed system capable of adapting to teachers and students as well as to the test or exam in progress depending on the subject or the evaluation to be carried out will be the most versatile proctoring software and, therefore, the most complete and guaranteed.
Some will opt for a more human and closer model with continuous human supervision and others for the efficiency and cost optimization and agility that full automation provides. The best EdTech partners are able to tailor their platforms to suit each use case and allow the educational organization to choose the model they need at any given moment.
Contracting an online exam proctoring system can be complex, but will be accepted if the vendor offers easy integration without complex installations and extensions that create friction and complications for both the student and the organization's IT teams. 
Regarding the contracting model, there are licenses per exam to apply in standardized tests and specific certifications, licenses per user to evaluate the same student for prolonged periods or pay-per-use integrations providing a system that the teams integrate into the virtual campuses through APIs.
Cutting-edge technologies that make online exams possible
Fully automated monitoring systems are those that are able to squeeze all the advantages and benefits of proctoring. In particular, they have proven to increase the productivity of companies and educational institutions and human resources departments and reduce their operating costs.
The most advanced technologies are adapted to the best proctoring solutions to make it more capable, secure, efficient and autonomous. They are usually differentiated by the type of filter chosen by the evaluation platform: image, audio, actions, objects, location, combined...
Documentary evidence of the evaluation

: Generating audit reports is crucial for official certifications and training tests for public administration and license recognition. A complete document is generated with the test, your answers, the student's identity and the events that occurred during the test. The test is signed and the evidence remains to be used in case it is needed.

Strong

authentication

to platforms and registration: Prior access to the platforms where online exams take place must be done securely and with a multi-factor strategy to avoid any risk.

Face recognition and biometrics

: Thanks to the cameras on the laptops or installed on the computers where the test is going to be taken, artificial intelligence checks the student and what he/she is doing, alerting a teacher or person in charge in case he/she is distracted or an attempt to copy is detected. If the computer does not have a camera, the platform can be linked to a second device such as a cell phone so that its camera is the one that performs the monitoring. These systems analyze both the student and his or her environment,

detecting any type of fraud in the exams with total accuracies

, such as earpieces, background voices, third parties or other devices that may be watching. Even if they do not appear in the recording, their reflected screen brightness or other aspects will be taken into account to accurately detect cheating attempts in online exams

.

Registration of on-screen actions

: With screen sharing, the student will not be allowed to switch browser windows or tabs to view other content, ensuring that what he/she responds to is acquired knowledge. The best solutions not only allow test-type exams but also the resolution of mathematical problems on digital whiteboards or the writing of texts, detecting copies and plagiarism.

Alerts to a human proctor

: You can configure the types of alerts to be given and when they will be considered serious enough to stop an exam. Systems can alert a qualified teacher or proctor to your device and automatically connect them via video conference with the examinee.

Electronic signature of

the exam: After the exam, the student will sign it and validate the authorization to review what happened during the whole test, giving faith.

Identity document verification

: In a face-to-face exam, it is easy for a forged document to go unnoticed by a teacher. The best proctoring tools are capable of detecting forged documentation with superior accuracy.

Videoconferencing

: For continuous human proctoring systems, having a video call system easily integrated within the assessment platform is the difference between a streamlined exam with a 10 student experience versus models with friction and complications.
The use and application of these technologies for anti-fraud controls in online exams provide superior validity to the evaluation and training tests. This, in turn, supports the awarding of certificates and enhances the reputation of educational and training centers not only for their commitment to guaranteed and secure online training, but also for their innovative technological model.
The supplier of these technologies will have to advise and carry out a detailed analysis together with the contracting company to indicate which combination of them is the most appropriate for the organization or educational institution. Everything will depend on the risks of fraud, the type of evaluations, tests or exams and even the predisposition of the public to the existence of certain controls.
Other technologies for the education and training sector
Digital onboarding has shown how education institutions and companies have been able to see increased growth and reduced costs. Online education companies see their ability to acquire new students reduced by complex onboarding and registration processes on their platforms.
The process known as KYC (Know Your Customer) is transformed into the one called Know Your Student (KYS), which verifies the student's identity before the incorporation to the educational platform to avoid any type of risk and fraud at the same time that it will validate with more support all the student's actions in the platform, giving greater capacity and guarantees to its results and the verifications obtained, avoiding further verification processes, since in this first one all the necessary data for the subsequent sensitive operations were registered.
Certified communication has proved to be the answer to changes in examination dates and schedules, but also to sensitive situations such as changes in enrollment or school fees, as well as other types of communications with students and suppliers.
Automation and RPA software have succeeded in reducing costs, optimizing processes and minimizing time in all types of companies and organizations in the education and training sector with a focus on students and teachers as well as on the rest of the staff and operations of companies and institutions.
How to avoid fraud in online exams
Malpractices likely to occur during online exams and assessments undermine the credibility and endorsement of distance learning. Lack of oversight leads to the proliferation of cheating and deception during remote education, something that, as we have seen, is being prevented thanks to technology.
There are certain considerations to take into account when establishing guidelines for the development of online exams that will help prevent any type of fraud. These include the use of certain operating systems, browsers and devices. However, giving learners access to open e-learning is based on being able to do so from any type of device, so we should not condition in this sense, but rather make the platforms and proctoring controls suitable to work in cross-channel environments.
Designing a secure flow throughout the entire student cycle will ensure that no fraud is committed. Thus, starting with proper digital onboarding, continuing with strong authentication (SCA) and sealing data with blockchain in an end-to-end system during student interactions on the platform will deter and provide security in equal parts.
Adding timers to each question will allow students to focus and discourage them from cheating. While it is beneficial to allow them to jump from one question to another, the timer will be running as long as they are answering a particular question, stopping when they jump to another.
Safety and legality of proctoring
Given the exhaustive controls that are carried out during an online examination by proctoring tools, many have wondered about the legality and compliance of this methodology with privacy and data protection regulations.
RegTech expert technology partners take into account the regulatory framework when developing their solutions. Likewise, they must analyze how it affects and how the integration of proctoring systems in the specific educational or training framework should take place.
Is proctoring legal?
The answer is a resounding yes. Proctoring is legal as long as the rules set by data protection regulations and user privacy laws are respected. 
The collection of personal data of candidates, employees or students for an online assessment test and all data generated during the test must be handled in accordance with the law, the user must be informed of how it will be handled and the possibility of withdrawal must be provided.
When the first relationship with the student is established, the student will give consent and will always be informed of the testing methodology and how the proctoring software collects and treats both video and usage data from the evaluation system and other elements.
Provided that the user is offered the possibility of accessing at any time to all stored personal data, to demand deletion, rectification and cancellation of consents, proctoring is completely legal and safe for both parties. In the same way, establishing digitalized processes to prevent the collected information or recordings from being used for other non-academic purposes is the solution to possible doubts about the legality of proctoring.
EdTech technology providers with a focus on regulation are able to offer solutions that manage this for the educational institution or company, relieving them of responsibility and taking care of data storage and management.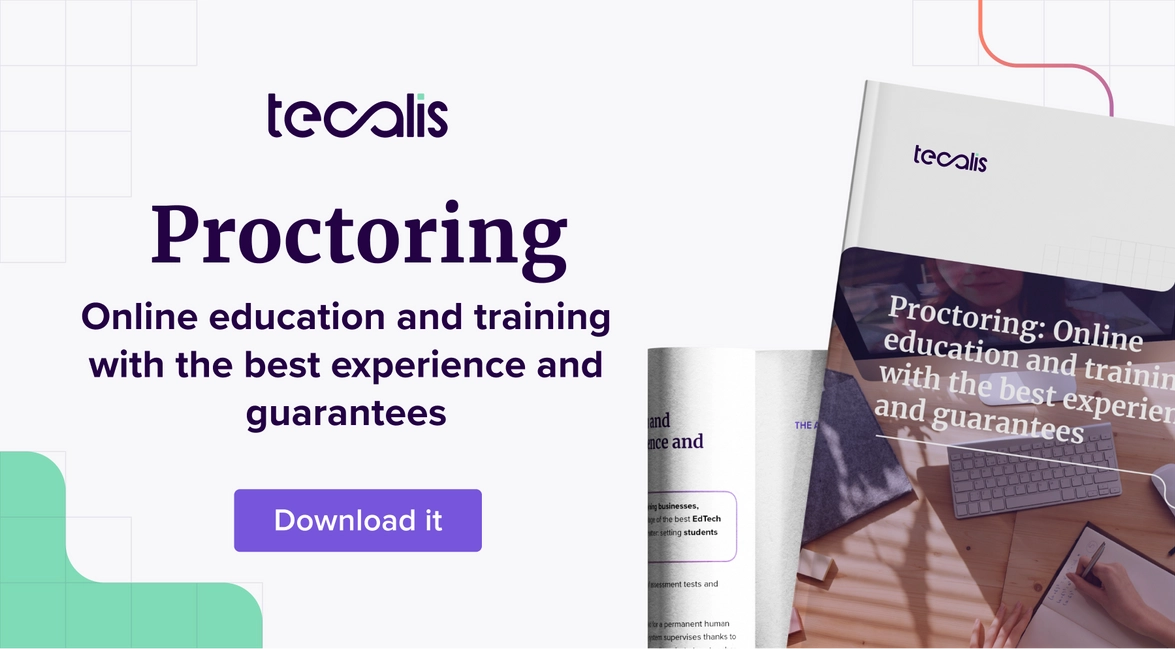 Tags